Using Rank Tracker with the Big-G Stealth Extractor
Note:
The Big-G Stealth Extractor will only work with the same Google domain as the server is based in. For example, if your server is based in the US, you can only query Google.com.
The Big-G Stealth Extractor is NOT a Proxy Server, however, in order to make it easy for anyone to use, we designed it so that you use the "Proxy Server" settings in your software, because virtually all software has these settings. The "Proxy Server Test" function in Rank Tracker may fail, but you will still be able to run your queries as normal - just very quickly :-)
This how to configure Rank Tracker to use the Big-G Stealth Extractor:

A.)
- 1. Go to Preferences > Search safety settings > Proxy rotation
- 2. Then check "Enable proxy rotation".
- 3. Then click "Add" and enter IP address, port number.
- 4. If necessary to your authentication method, enter your username and password as found in your welcome email.
- 5. Please select the proxy server and click "Check" to make sure that Big-G server is identified as being "Alive" by RT.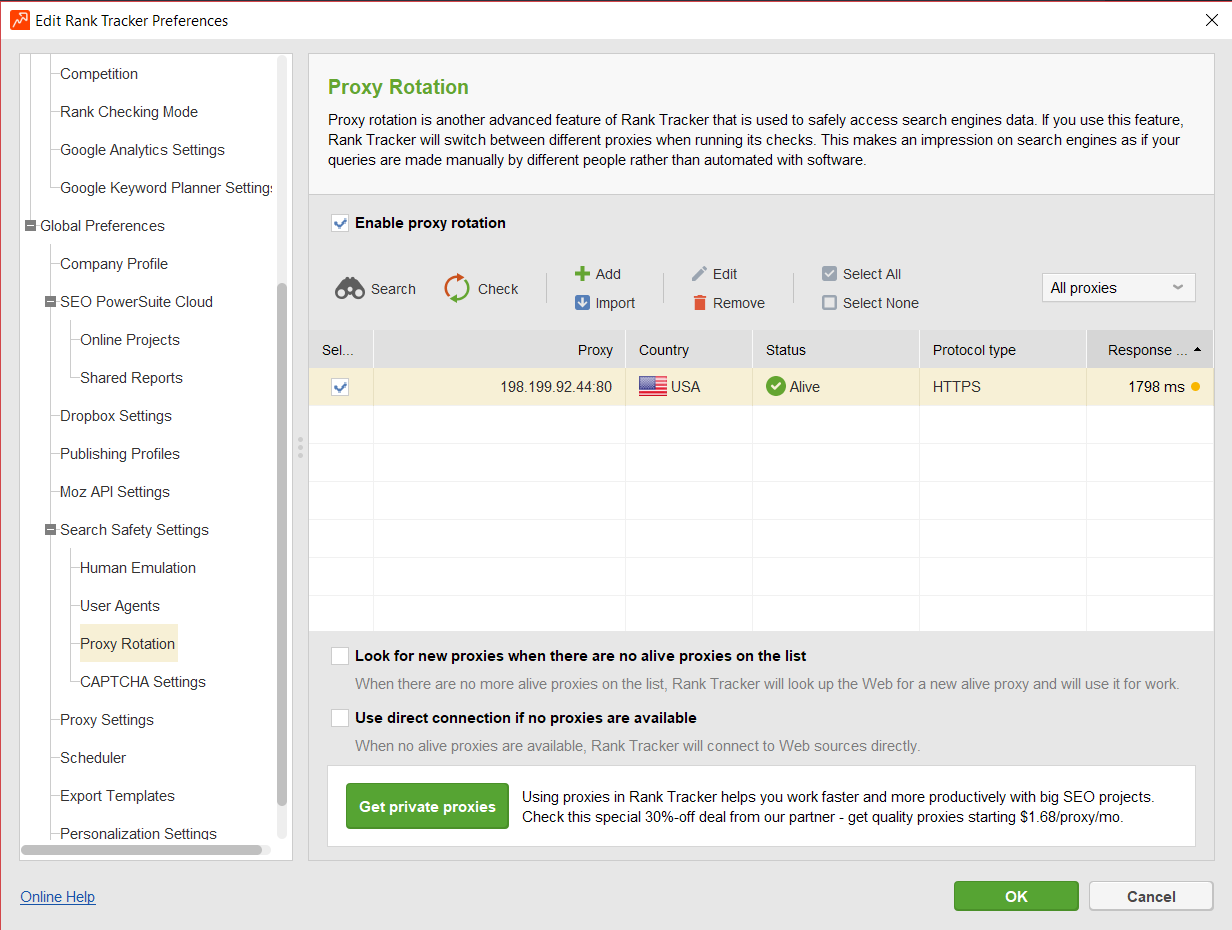 Note: make sure the "Look for new proxies when there are no alive proxies on the list" and "Use direct connection if no proxies are available" options are disabled.

B.)
-1. Go to "Human Emulation" under "Search Safety Settings.
-2. Tick "Visit search engine's homepage"
-3. You can set Rank Tracker to use No Human Emulations Delay! (No Humans at all...!)
-4. You can set delays after interrupted queries to 5 mins only as opposed to the usually recommended 15 mins.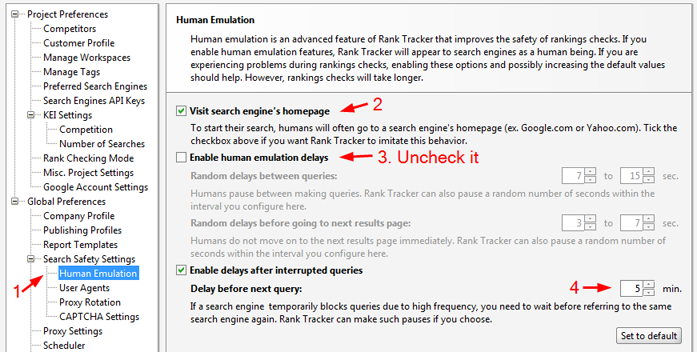 C.)
- 1. Go to "Misc. Global Settings"
- 2. Set the "Number of simultaneous tasks" to the maximum (the max is 25).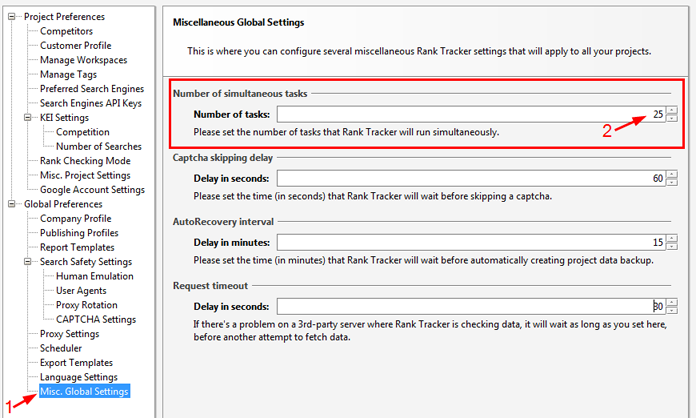 F.) Once all the settings have been adjusted press "OK" and the Preferences will be saved.
Troubleshooting
Ranking results are not what you expected?
Google sometimes changes the ranking results they display based on a few factors (your location, device used, cookies, search history, etc). The exact details of what goes into that formula is a well-guarded secret.
If your ranking results are slightly different (i.e. position 3 vs position 5), then there's nothing to worry about here. You can ask for a different Big-G server to test, but please specify that you would like it to be geo-located in a different part of the country. Hopefully closer to where you live. We'll do our best to accommodate.
If, however, you're seeing a massive difference (i.e. expected to see position 5, but RT says you're not in top 50), then there could be something else wrong here.
The first step to troubleshoot this is to open up a private browser session (Firefox is recommended because it isolates its proxy settings from the OS) and enter the Big-G server as a regular proxy server in your browser settings.
Here's a tutorial on how to do that: https://support.mozilla.org/en-US/kb/connection-settings-firefox
Once that's done, please go to Google's Homepage and type in the keyword manually. Then search for your website in the results and see if the result is more or less what you expected.
You're still welcome to ask for a different Big-G server to test, but we would contact Rank Tracker at this point and ask them what they suggest you should do in this situation. Nobody knows their software better than they do.